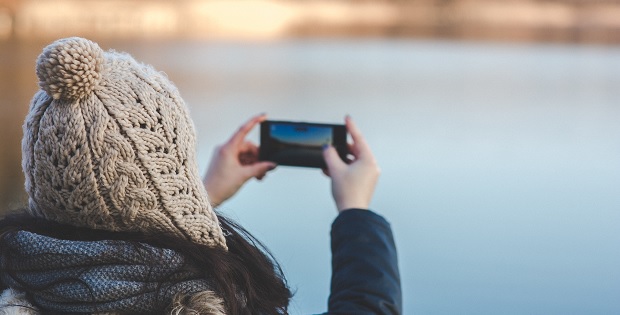 Learn These Easy Tips For Nature Photography Using Your Own Smartphone!
Today, almost everyone has a smartphone in his/her pocket and takes shots here and there when an interesting subject is found.
What could be more interesting than nature?! Well, if you only have your own smartphone with you and want to capture some really beautiful nature photos, then you might need to read this article that shows you some simple smartphone photography tips for nature.
Read through this, check out the photos and tell us about your thoughts!
……………….

Do you have a smartphone? If you do, than you have the ability to take pictures of the natural world all around you wherever you happen to be. As many of you know, many opportunities to view nature can come unexpectedly and with smartphones, we can often capture these unexpected moments.

Let's look at some easy smartphone photography tips that can help you capture the best photos of landscapes, birds, butterflies and the world around us.

Crested saguaro skeleton

1. Keep your camera steady by using two hands when taking pictures. Have you noticed that it is hard to keep your hand steady when taking a picture? Smartphones are more susceptible to blurring of images by a shaky hand so by holding your smartphone with both hands, or better yet, setting it onto a firm surface, you'll take a much better photo.

2. Select the HDR setting on your smartphone camera for photos taken of landscapes, portraits in bright sunlight or shots where there are bright and dark areas. So what is HDR and why is it important? HDR stands for 'High Dynamic Range', which means that everytime you press the shutter button, your camera takes 3 photos (each with a slightly different exposure) and melds them into one photo. The resulting photograph more closely resembles what your eye sees as opposed to a standard camera view that is less dynamic. Don't use HDR in sunny situations where the colors around you are bright or where there is movement such as with birds or butterflies moving about.

Zoomed in smartphone photograph of a cactus wren – don't do this!

3. Do not use the zoom in feature on your smartphone when taking pictures. While most smartphones have a zoom in feature, the resulting photo is often blurry and of poor quality, like the picture of the cactus wren above. Instead, take your pictures without zooming in and crop them later. For taking pictures of birds and butterflies, you need to get within 10 feet of of your subject for the best photo quality, which can be difficult, but not impossible.

Drought tolerant plants

……………….

Read the full article at BirdsAndBlooms.com and learn more about the smartphone tips for nature photography:
Credits:
Article Source: 5 Easy Smartphone Photography Tips for Nature